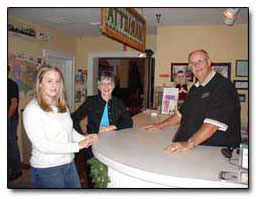 Without dedicated volunteers, nonprofit organizations would cease to exist. The Marietta Museum of History is no different in its need for assistance. There is no age too young and no age too old, and every person will find an area that provides interesting and exciting opportunities.
If you're a people person, the staff at the Marietta Museum of History would love to have you as a docent, providing tours for school groups and senior groups. Docents will receive training, and may dress in costume if they so desire.
If tours are not your cup of tea, don't worry. We need volunteers at our welcome desk and run our cash register. This position offers opportunities to greet the public, and share your knowledge of Marietta's history.
Volunteers are welcome to work any schedule they desire. Perhaps you can help for one afternoon or morning a week, or maybe just one Saturday per month. If that's too much, the museum always needs extra hands for special events. The Marietta Museum of History provides training and great benefits for volunteers. As a volunteer, you will receive a discount on all purchases in the Museum Store, tickets to all special events, private parties and gatherings, and more.
Please help the Marietta Museum of History continue to provide wonderful experiences for visitors by becoming a volunteer or encouraging a family member or friend to do so. If you are interested in our Volunteer Programs, please contact us at 770-794-5710 or email us at VolunteerMMH@gmail.com to schedule a day and time for you to visit the Museum and discuss volunteering. We'd love to have you as part of our family!