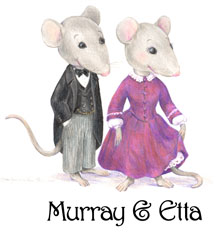 The Marietta Museum of History announces new tours for the smallest of visitors. Based on programs by the Smithsonian Institute's Early Enrichment Center, tours will be offered to toddlers from age 3 to 5 and their parents. Different topics will be offered on the second Wednesday of every month at 10:30 a.m. and the cost is $5 per family (one adult and up to three children), additional adults and children are $5 each.
The purpose of the tours is to introduce toddlers to history through very basic concepts like shapes, sounds, games, tools and jobs. Museum Mascots Murray and Etta are whimsical cartoon mice that will help convey the themes for the tours and provide a little fun. The tours will offer a variety of activities including story time and crafts.
We require that you reserve a spot for your toddler by calling our office Monday-Friday from 10-4 at 770-794-5710.  Reserving a spot will allow the staff to have enough items for the crafts. Thank you.
2018 Scheduled Museum Mice Tours are:
January 10th-Murray's Favorite Games
February 14th-Etta's Favorite Colors-Valentine's Day Edition
March 14th-Following Murray's Treasure Map
April 11th-Exploring Jobs with Murray
May 9th-Murray & Etta Open a Restaurant
June 13th-Etta Spies with Her Little Eye
July 11th-Etta's Favorite Shapes
August 8th-Murray's Cool Tools
September 12th-Making Music with Murray & Etta
October 10th-Murray & Etta's Dance Party
November 14th-Etta's Favorite Colors
December 12th-Murray & Etta Count Collections
Themes are subject to change.
The Marietta Museum of History is dedicated to preserving the history of Marietta and Cobb County by "Preserving, Providing, Promoting, and Partnering" with the community.
Winner of the Georgia Association of Museums and Galleries Education Program of the Year 2007!