The Marietta Museum of History student tours are based on curriculum standards of Georgia schools. We offer educational materials to more directly enhance the students visit to the museum. (Please see the Educational Guide for more information.)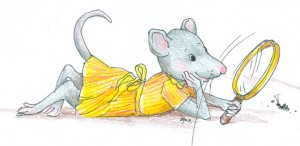 For our smallest of visitors the museum has Murray and Etta, our museum mice, leading the way with the Museum Mice Tours.  Based on programs by the Smithsonian Institute's Early Enrichment Center, tours are offered to toddlers from age 3 to 5 and their parents.
If you are looking to do a bit of research on local history, the Marietta Museum of History has a variety of resources available to the public. (Please see Research Resource page for more information.)
The Museum Staff is available to give presentations to area clubs and organizations.  We have a variety of outreach topics which include:

They Weren't all Rosie's: Role of Marietta Women During WW2: Because the majority of those overseas during WW2 were men, it is east to overlook the important roles of women during the Second Great War. Lean about our "Rosie's" here at home, the nurse corps, women in noncombat roles, and more.
Remarkable Women of Marietta and Cobb County: Learn about remarkable women and how their accomplishments impacted life in Cobb County.

The Life and Times of Cobb County: Native Americans, the Great Locomotive Chase, wars, local businesses, and more!

A Virtual Stroll Down Kennesaw Avenue: Follow along with our presentation of the amazing, historic homes in the area.
General Museum Talk: Learn the rich history of the antebellum Kennesaw House, which houses the Marietta Museum of History! Built in 1845, this building has seen more than we could imagine.
For these outreach programs, there is a fee of $40 for one presentation. Any additional presentations on the same day are $25 each.
* If you are located outside of Cobb County, you may be subject to an additional travel fee based on mileage. Please contact us for exact pricing. 
info@mariettahistory.org
770-794-5710