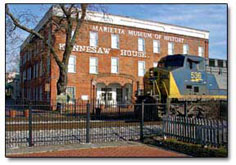 Welcome to the Marietta Museum of History located in Marietta, Georgia. Open since 1996, our museum's galleries and exhibits are housed on the second floor of the historic Kennesaw House building.  The Museum houses the largest collection artifacts relating to Marietta and Cobb County's history.
Originally built as a cotton warehouse in 1845, the building was remodeled to become the Fletcher House Hotel in 1855. During the Civil War the hotel temporarily served as a makeshift hospital and morgue. For this reason, the building has become the subject of many stories and local ghost folklore. This notoriety has led to appearances on CNN, The History Channel and PBS.
Today the museum houses galleries and exhibits featuring collections from the General History, Home Life and the Military.  With the addition of the Aviation Wing (located 2 miles south of the Kennesaw House) in 2010, the Museum has been able to tell the exciting and important story of the role of Aviation to Marietta and Cobb County's history.
The Marietta Museum of History is dedicated to preserving the history of Marietta and Cobb County by providing an educational, enlightening, and engaging experience. Join us in preserving our past at the Marietta Museum of History!